I recently had the opportunity to catch a show at La Nouba by Cirque du Soleil. In all my years living in Orlando, I had not seen this fascinating show. What a wonderful time I had! La Nouba is located under that big white circus tent in the West Side at Disney Springs. You can't miss the enormous attraction when visiting Disney Springs.
La Nouba offers the audience nearly two hours of pure excitement. Guests experience bright, dancing colors and a thrilling storyline set against live music. The orchestra can be indirectly seen through the two towers at each end of the stage. A host of Characters, dressed in unique, colorful costumes, interact with the audience on every skit. This creates an intimate performance well worth vacation dollars and precious personal time.
La Nouba by Cirque de Soleil at Disney Springs brings together many talents under one attraction. There's juggling and balancing acts, mesmerizing break dancing choreography, stunning bicycle tricks, incredible trapeze artistry and aerial dancing, and a showcase of trampoline stuntmen that will set your emotions on fire. Muscle Men, singers, and hilarious skits by clowns complement the story. It's a continuous stream of excitement that never dulls.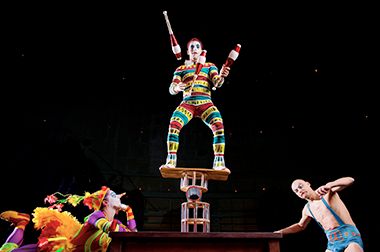 - La Nouba by Cirque du Soleil brings together a Wide Cast of Characters and Color! -
Make plans during your next Disney vacation to visit La Nouba. Grab a bite to eat before the show at one of the restaurants on site at Disney Springs. This attraction is located beside the Orange parking garage. With the new smart parking features, finding a spot is quicker than ever. Such a memorable experience that you'll treasure for years to come!