The beautiful town of Celebration, Florida is a must-visit on your next Disney vacation. It's located just off HWY 192, near Walt Disney World. When in Celebration, you instantly get the small- town feeling as you stroll amongst front porches, manicured lawns, and white picket fences.
Celebration was envisioned and originally developed in the 1990s by Walt Disney World. Some of their offices are still located there. More than 4,000 residential properties are sprawled out across Celebration. Many visitors don't realize that the town has its own schools, hospital, fire department, post office, and a gorgeous golf course. The parks and nature trails are excellent for enjoying the outdoors.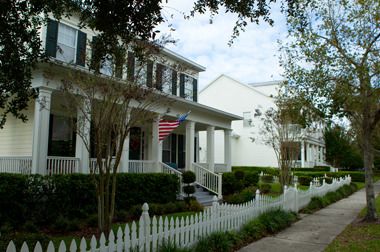 - Beautiful Homes with Picket Fences line community sidewalks in Celebration, Florida -
All the fun and magic is located at the Celebration Town Center in the downtown area. Great restaurants and charming shops surround lakefront. Celebration hosts seasonal festivals that will add an extra spark to your Disney vacation. Though Central Florida is not known for snow, special machines blow faux snow created by soap suds at select times during the winter months, especially around the Holidays. It's a real treat for visitors who are here for the warmer weather and sunshine.
Great Celebration Restaurants Recommended by Magical Memories Staff
Café D' Antonio. 691 Front Streeet | Celeration, Florida 34747
The place to go for excellent Italian food. It was specifically selected for the town of Celebration by Disney. Choose from an impressive wine list to compliment your lunch or dinner. Reserve your table ahead of time, as this restaurant fills up quickly and often.
Celebration Town Tavern. 721 Front Street | Celebration, Florida 34747
The Tavern is the perfect neighborhood spot for a lobster dinner, big- mouth burger, or traditional fish & chips. It provides diners with an authentic New England atmosphere with a large menu to match. This very much a family- friendly restaurant, but does provide a classic pub area and amazing beer menu with 99 different options to choose from. An outside patio table is great for our warm Florida evenings, while the interior is very welcoming as well.
Columbia Restaurant. 649 Front Street | Celebration, Florida 34747
The award winning Columbia restaurant serves up authentic Cuban and Spanish dishes within an inviting old-world-style dining atmosphere. Paella dinners here are amongst the best in Orlando! Columbia's menu is diverse and just too difficult to pick one entrée. Salad is tossed right at the table and the Sangria is fabulous. In fact, the Sangria is prepared tableside as well. Remember to choose a souvenir at the Spanish shop before heading home.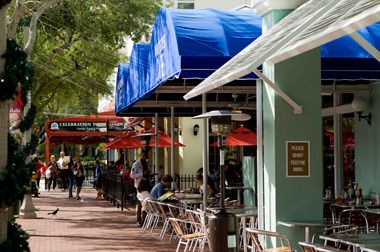 - Dinner by the Sidewalk, Views of the Lake. People-Watching is common in Celebration, Florida -