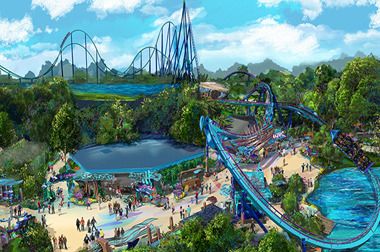 - Artist Rendering of the Mako Roller Coaster at SeaWorld Orlando -
SeaWorld Orlando will soon be home to Orlando's tallest, fastest, and longest roller coaster. Mako is set to debut in Summer, 2016. Dedicated to the ocean's fastest shark specious, it will be the anchor attraction to an area at SeaWorld all about sharks. Shark Encounter, a restaurant named Sharks Underwater Grill, and other educational experiences and shops will surround the coaster.
Just this week, the highest point of the roller coaster was installed. Thrill seekers will be carried 200 feet into the sky before a sudden plunge. Speeds will reach up to 73 mph! Experience the feeling of weightlessness as you race through turns and hills. We will certainly be fighting for a spot in the front of the line!