Christmas is a time spent enjoying food and laughter with family and friends. A lot of family groups are currently staying with Magical Memories for the Holidays and enjoying the local attractions, seasonal events, and popular theme parks in Orlando. We appreciate all our guests that we met this past year and hope to see everyone back in 2015!
A Disney vacation should be on your list of priorities as we cross into the New Year. The sooner you plan your vacation, the better your chances are of securing your dream vacation rental property. All vacation homes at Magical Memories feature private swimming pools and screened patios. Resort Villas are also an attractive option, with great resort amenities and large, heated community pools.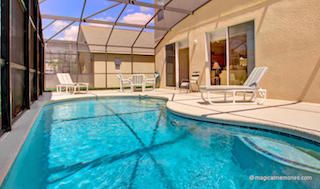 Rental properties will book up fast months ahead of time, so make your plans soon! Magical Memories offers competitive rates on accommodations. You'll find that reserving a vacation rental provides much more value than staying in a higher priced hotel room. Discover the advantages to booking early, and let our staff help you secure your trip in 2015 and discover the advantages to booking early.