Are you missing the precious vacation time you spent with family and friends this past summer? Do you find yourself gazing out your office window and imagining warm weather fun at Walt Disney World or riding thrilling coasters at Universal Studios Orlando? Don't wait until next summer for a return trip. Now is the best time to escape to Orlando and the beaches of central Florida! The weather has become more pleasant as more and more excitement fills the air!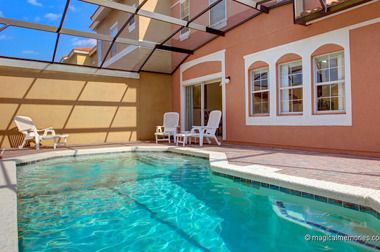 Imagine.. Relaxing Poolside in Our Warm Pool- Perfect Weather. This Weekend!
Perfect Pool Weather
Orlando weather stays sunny and warm for several months after the summer ends. This is the best time of year to lounge poolside in your own private swimming pool oasis. All rental homes managed by Magical Memories Vacation Rentals feature private pools enclosed within screened porches. While our northern neighbors are building snowmen, guests are enjoying poolside fun and picnics in the Florida sun!
Fewer Crowds at Orlando Theme Parks
Attendance at popular theme parks lessens during our off- season months. Naturally, kids are back in school and their parents are focused on work. Come back to Orlando during the next several months and enjoy shorter lines at attractions such as Walt Disney World and Universal Studios Orlando. You'll actually be able to enjoy every ride, whereas in the summer you may be stuck in line for over an hour's wait. This is a big advantage especially during shorter fall and winter visits.
The Latin Food & Wine Festival- October, 2015. Dr. Phillips Center in Orlando, Florida
Attend an Exciting Weekend Festival or Concert
Escape for a short vacation over an upcoming weekend. There are festivals and concerts nearly every weekend until summer, 2016. Check out the calendars for Walt Disney World, Universal Studios Orlando, and SeaWorld before planning an off- season trip. Downtown Orlando hosts a Farmers Market every Sunday afternoon with delicious local food, arts and crafts, and live entertainment. The Amway Center and other smaller venues feature mainstream musicians and bands frequently.
Lower rates on our vacation rentals compliment Orlando vacations in the upcoming months. Plan your visit with Magical Memories Vacation Rentals to take advantage of the lowest nightly rates of the year. Invite more family and friends, and your trip becomes even more affordable to the Disney area. What are you waiting for? Experience the Best Season to see the Mickey and neighboring attractions!