It has been a hot July with a Heat Index climbing over 105 degrees on most days. While this weather may be perfect for the beaches or Disney Water Parks, it is sometimes difficult to tolerate hours on end while visiting the Orlando theme parks or outdoor shopping malls. Follow these simple tips to make your outdoor activities more bearable.
Dress in comfortable clothes for the weather conditions and hours of exposure to direct sunlight. Bathing suits and light colored clothing are perfect for days spent outdoors at the theme parks. Choose clothing that is lightweight and allows your skin to breath easily. Apply a higher level of SPF sunblock to skin that is exposed to the sun. Sunburn can make the rest of your vacation unpleasant.
Drink lots of water throughout the day to stay hydrated and energized. It is easy to become dehydrated in the summer sun, especially walking several miles within Disney theme parks. Our bodies are mostly water. You'll lose a large amount of water through perspiration. A good suggestion would be to carry a water bottle with you and refill when empty. This will also alleviate soreness felt after a long day outdoors.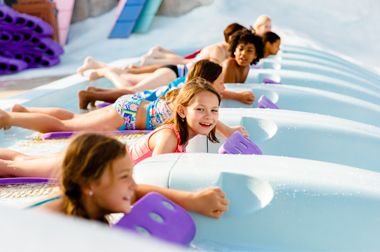 - Blizzard Beach at Walt Disney World is The Perfect Spot for a Hot Day! -
Cool Off with a delicious ice cream snack from a snack stand. Snack Kiosks can be found everywhere at the Disney Parks and outdoor shopping malls. Children, especially, will be thankful for the unique treats such as the famous Dole Whips and Mickey Mouse Ice Cream Bars found at Walt Disney World. Grab some treats for the whole family while waiting in line at one of the roller coasters. Your wait will be more enjoyable.
Take Some Time and Rest under shelters and misting stations throughout the theme parks and shopping malls. Restrooms and restaurants within the attractions also provide for a good spot to rest in air conditioning and gain a second wind. Wipe a damp paper towel across your head, arms, and legs for a quick cool-down in between amusement rides.
More hot and humid days are in the forecast, at least for the next couple months. Stay comfortable and take our Cool Advice while visiting the Orlando area theme parks this summer. These tips will greatly improve your vacation experience at the Attractions.