Visit the Ace Café for an unforgettable night full of excitement of rock 'n' roll, an impressive display of cars and motorcycles, and delicious soul food. What began in 1938 as a roadside café in London, has tuned into an international destination attraction. The Orlando café is the only one in the USA, right beside I-4 and the major entertainment points of Downtown Orlando.
Nearly every night, car enthusiasts and bikers meet up to show off their wonderfully- preserved rides. Live Music and great American comfort food that's inspired by roadside diners compliment the exciting atmosphere. On certain nights, you'll be able to see Jeeps and Trucks, Volkswagens, Corvettes, Hot Rods, and nights dedicated to British cars. View their Events Calendar to see what's happening during your visit to the Orlando area.
When I cruised into the Ace Café on a recent Friday night, I enjoyed the Pastrami Reuben Melt sandwich with French Fries and was able to park beside the patio and table where I ate. I drove my vintage 1985 Volkswagen Vanagon to the monthly Orlando Van Club meet that happens every first Friday of each month.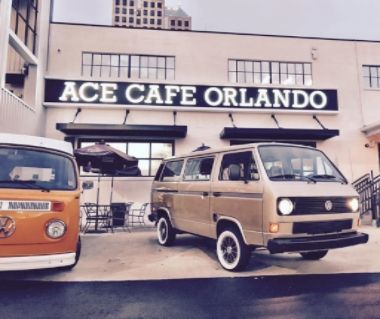 - 1985 Volkswagen Vanagon at Ace Cafe Orlando -